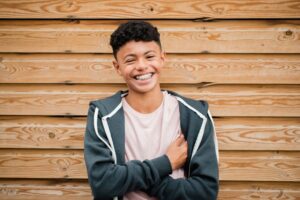 Getting used to orthodontic braces can be an uncomfortable experience. However, loose brackets or wires can also cause pain, an issue that could cause bigger problems if not addressed quickly. That's why it's important to stay on top of your oral health. Here are a few remedies to help with mild irritation; however, be sure to contact your Palos Hills orthodontist if any of these problems persist.
Irritation and Soreness
When you get your first set of braces, minor discomfort is common for the first few days. Your lips, cheeks and tongue won't be used to the metal in your mouth, so they might rub against the wires or brackets and become scratched or irritated.
If your braces continue to cause irritation, here are a few things you can do to address it. First, make sure you're drinking plenty of water. A dry mouth tends to worsen the irritated areas. Next, be sure to regularly brush and rinse your mouth to limit the food or debris that could contribute to the irritation. Third, remember to use wax to cover the irritating parts of your braces. If the soreness continues, schedule an appointment with our orthodontist in Palos Hills to further examine the problem.
Damaged Braces
While unlikely, it's possible for your braces to become damaged while you are wearing them. Perhaps the most frequent issue is when brackets or wires become loose or dislodged. These issues are no cause for panic, as our team is able to quickly address the problem. Schedule an appointment with our orthodontist in Palos Hills soon as possible to have your braces corrected.
Oral Injuries Caused by Braces
While wearing braces, you're also more likely to become injured when doing physical activity. Try wearing a mouthguard when participating in sports or workouts to reduce the risk of damage to your tongue, lips, and cheeks. You can also apply wax to the parts of your braces that are causing the most irritation to avoid serious cuts.
Of course, not everyone who has braces ends up harming themselves, but there are risks with metal in the mouth. Being proactive against potential injuries is the best form of prevention but if you experience any pain or discomfort when wearing braces, contact Paul DiFranco Orthodontics of Palos Hills for a fast appointment.
Paul DiFranco Orthodontics of Palos Hills
Phone: (708) 930-5941
Url: https://paloshillsortho.com/
10059 S. Roberts Rd. Suite 2A
Palos Hills, IL 60465