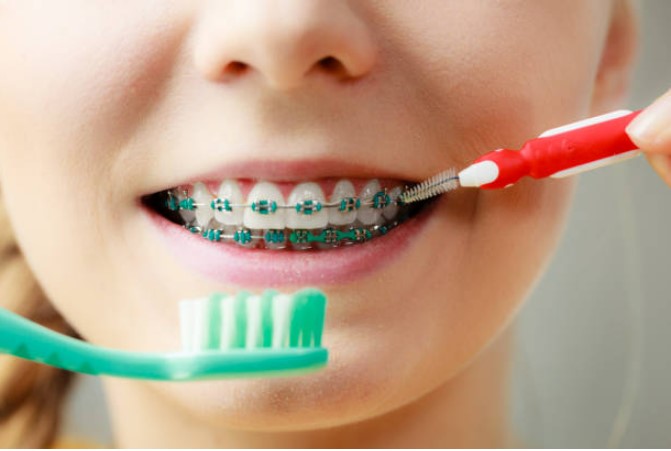 We understand that aligning teeth into healthy, beautiful smiles is only half of the job. Maintaining proper oral hygiene and keeping your mouth as clean and free of plaque and harmful bacteria as possible is also essential. Whether you have metal braces, clear braces, gold braces, or Invisalign®, knowing how to care for your appliances and maintain your overall oral health is critical. Here are some products that can assist you along the way.
Interdental Toothbrush
A Proxabrush is a toothbrush that you can use to clean underneath and around your wires and braces. To avoid damaging your wires, use the Proxabrush gently. The Proxabrush will assist you in cleaning your braces while keeping your teeth and gums healthy. Our orthodontic office can help with suggestions if you have questions. 
Toothpaste with fluoride and mouthwash
Topical fluoride, found in toothpaste and mouthwash, helps patients of all ages avoid dental decay. The use of fluoride-containing oral hygiene products on a daily basis is especially important when undergoing orthodontic treatment because orthodontic appliances make it more difficult to remove harmful plaque and bacteria from the teeth and gums.
For the duration of your orthodontic treatment, we can prescribe a prescription-strength fluoride to help prevent decalcification, or the breakdown of tooth enamel. This toothpaste provides additional protection for your tooth enamel, which is required due to the amount of plaque that accumulates while wearing braces. Due to the elevated levels of fluoride present in this toothpaste, adult supervision is always suggested. 
We also recommend that you use a fluoride-containing mouthwash, such as the alcohol-free ACT Anti-cavity Fluoride Rinse, to help protect your enamel.
Cleaning removable appliances
Brush your removable appliance as part of your regular brushing and flossing routine every day. Soak your appliance daily because food particles and plaque can accumulate on it just like they do on your teeth. Soak your appliance once a day in a glass of room-temperature tap water with a Polident, Efferdent, or other denture-cleaning tablet dissolved in it. Your appliance will taste better, and plaque and bacterial buildup will be reduced.
The significance of maintaining good oral hygiene while wearing braces cannot be overstated. Although brushing and flossing your teeth with braces is more difficult, there are many products specifically designed to help with this. Please contact our orthodontic office if you have any additional questions or concerns about maintaining proper oral hygiene, or if you would like to schedule an appointment. We are always happy to help!
Paul DiFranco Orthodontics of Palos Hills
10059 S. Roberts Rd. Suite 2A