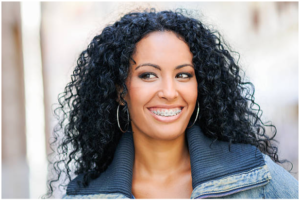 When you were a kid, braces were the coolest! It's still the same now.
It's never too late to improve your confidence and self-esteem by correcting any issues with your bite or the alignment of your teeth. Adults often seek orthodontic treatment for problems that extend beyond cosmetic concerns. It doesn't matter if you're thinking about changing your smile for aesthetic reasons or to fix long-standing bite and jaw alignment issues, specialized orthodontic treatment can give you a smile that looks and feels great!
With recent advancements in orthodontic treatment, there are more options available to adults. These treatments are effective, less noticeable, and more comfortable than ever before. If you are considering orthodontic treatment, our Palos Hills Orthodontist will discuss which options best suit your lifestyle, needs, and goals.
Conventional metal braces
Even though the thought of metal braces as an adult may not appeal to everyone, conventional braces for adults provide exceptional treatment outcomes and may be the best option for specific types of orthodontic concerns. Modern braces are smaller and more comfortable than ever before, and more and more adults choose traditional metal braces because of their fast results.
Ceramic braces
For adults who desire the benefits of traditional braces but wish to receive treatment more discreetly, ceramic braces are also a popular option. With ceramic braces, metal braces are replaced with tooth-colored composite brackets, which mimic your natural tooth color. Ceramic braces are susceptible to staining just like your natural teeth are, so you must clean them thoroughly.
Invisalign
Treatment with Invisalign clear aligners, the most popular option for adults, uses a 3D image of your teeth to create a series of custom-fit trays that gradually shift your teeth and jaw to the desired position. The most discreet form of orthodontic treatment could be the perfect solution if you're concerned about the visibility of your orthodontic appliances.
In what ways does orthodontic treatment differ for adults?
As with children and teens, orthodontic treatment for adults involves gently pushing teeth into their desired positions over time using their orthodontic devices. In adults, however, teeth and jawbones are no longer developing, so treatment may take longer than it does for younger patients with less bone density.
Smoking, tongue thrusting when swallowing, and clenching or grinding your teeth can also affect the length and outcome of adult orthodontic treatment. For severe cases, your orthodontist may need to consult your dentist or enlist the help of a specialist.
Why should adults consider orthodontic treatment?
Is there value in having a confident, healthy smile in your everyday life, at special events like weddings, or in your career?
Through specialized orthodontic treatment with braces or Invisalign clear aligners, individuals can achieve an improved smile that will improve their quality of life and psychological well-being. Researchers have shown that healthy, straight smiles inspire confidence and self-esteem in relationships, social settings, business, and your career and that individuals who are embarrassed by crowded or crooked teeth don't smile as much as those with perfect teeth.
The result of a bad bite, known as malocclusion, can cause abnormal jaw pain and pressure. If left untreated, it can lead to tooth decay, gum disease, difficulty chewing, and abnormal wear of the tooth enamel. In addition, you may experience headaches, migraines, and pain in your jaw. These problems are alleviated with skilled orthodontic treatment, which eliminates the tension that causes pain.
Additionally, orthodontic treatment may be able to improve your ability to chew and speak, as well as help with sleep apnea. Straight teeth and proper jaw alignment are essential to your overall health and well-being.
By investing in orthodontic treatment, you can drastically reduce the amount of money you'll spend on dental and health care throughout your lifetime. You'll get to enjoy a healthier, more comfortable bite, avoid lifelong pain, and smile with confidence.
How will braces change my appearance?
Braces typically affect facial structure less in adults than in teens who are still growing, although you will notice a more balanced appearance after treatment. The greater the imbalance at the start, the greater the result will be. Rest assured, you will still look like yourself!
When planning your treatment, it's vital to work with a highly qualified orthodontist. The specialized expertise and precision of our Orthodontist Palos Hills will ensure that you get both aesthetic and functional benefits. Contact our Orthodontist in Palos Hills, IL office today to schedule a consultation appointment.
Paul DiFranco Orthodontics of Palos Hills
Phone: (708) 930-5941
Url: https://paloshillsortho.com/
10059 S. Roberts Rd. Suite 2A
Palos Hills, IL 60465