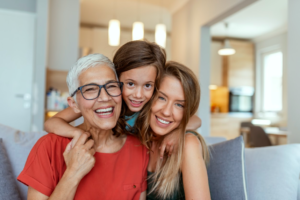 Our mouths and smiles change as we age. Your teeth and smile are affected by both the natural aging of your body as well as wear and tear from decades of use. It is vital to understand how your smile changes as you age and what can be done to keep your mouth healthy.
Change #1: Natural Wear and Tear
Your teeth are one of the most durable structures in your body. The enamel that covers your teeth is 96% mineral, making it stronger even than bone. However, they aren't indestructible. Decades of daily use wears down enamel. Without that protection, the underlying dentin layer becomes vulnerable to cracking and breaking.
Another factor that wears down is the sensitivity of our nerves. This can be especially problematic, as when the nerves become less sensitive, people feel less pain. This can potentially cause problems to go undetected for a large amount of time.
The best way to combat wear and tear is to keep up with your brushing and flossing habits no matter your age. Your dental team can recommend a soft bristled, professional electric toothbrush that can help thoroughly clean your mouth. Keep regular dental appointments and follow the recommendations made by your dental team. This will help keep enamel strong and strengthen your teeth to slow down damage caused by wear and tear.
Change #2: Teeth Shifting
Bones gradually lose strength as we age, and jaws are no exception. As the jawbone weakens, teeth can shift in a variety of ways. For some, they shift laterally, either bunching up or growing further apart. Other times they bend inward towards the tongue or outward towards the gums. Not only can this shift be due to weakening bone; other times it's a sign of periodontal disease, which causes gums to recede.
In some cases, an orthodontic solution may be appropriate. Braces or Invisalign are effective ways to fix your teeth and get them back into proper alignment. If the shift has been caused by periodontal disease, a treatment plan involving periodontal care may be recommended.
Change #3: Oral Cancer
Oral cancers can appear in patients of any age, gender or race. It is, however, more common among older patients. A thorough dental examination will include an oral cancer screening. Never hesitate to ask your dentist for information on this life saving step.
Some oral cancers have no obvious symptoms, whereas some may present as open sores, white patches in the mouth, or changes in the color of the gums and lining of the mouth. Ideally, the cancer is caught in the earliest stages and can be effectively treated.
How can we help?
There are a number of ways that your smile can change as you age. We offer preventive, restorative and cosmetic dentistry. Contact us to schedule an appointment with our Palos Hills orthodontic team.
Paul DiFranco Orthodontics of Palos Hills
Phone: (708) 930-5941
Url: https://paloshillsortho.com/
10059 S. Roberts Rd. Suite 2A
Palos Hills, IL 60465