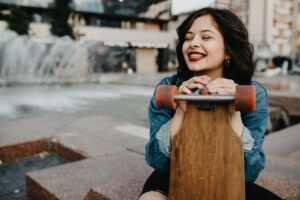 Orthodontic treatment and teeth whitening are two of the most common methods for cosmetically improving your smile. The question is, can you achieve straighter and whiter teeth at the same time?
For many patients the answer is yes – it is possible to whiten your teeth while wearing braces. But perhaps a better question is, will you achieve better results if you wait until after your orthodontic plan is completed? Here are a couple of questions to ask yourself to help plan the best timing for whitening your teeth.
What Type of Braces Do You Have?
Patients with traditional metal or clear braces have brackets that are glued directly onto their
teeth. Attempting to whiten the surrounding areas during treatment could lead to uneven results
when the braces are removed. Whitening during orthodontic treatment may be a viable option
for those white lingual braces, which are worn on the back of the teeth. Likewise, those with
Invisalign aligners could be candidates for simultaneous orthodontic and teeth whitening
procedures, depending on the overall condition and health of their teeth and gums. A personal
consultation with our team can determine if you can achieve better results by waiting until your
teeth finish moving into their new position, to avoid having to re-whiten newly exposed tooth
surfaces later.
Which Whitening Option Do You Prefer?
There are several effective methods for achieving a whiter smile, including in-office "chairside"
whitening, performed using a high-strength bleaching agent that is activated by a high-powered
light. This technique is performed by our dentists and the best results will be achieved once
orthodontic treatment is finished. Some patients prefer to whiten their teeth over a period of
weeks at home, using custom trays. Since these trays are created in-office to exactly fit your
teeth, waiting until braces are removed is recommended.
Making an investment in your smile is a long-term commitment. If you have already begun orthodontic treatment, the best way to avoid unwanted staining or discoloration is by practicing good oral hygiene habits and maintaining your routine cleanings and checkups. Contact us for a personalized consultation to discuss your smile goals, and find out the best way to achieve a healthy, dazzling smile.
Paul DiFranco Orthodontics of Palos Hills
Phone: (708) 930-5941
Url: https://paloshillsortho.com/
10059 S. Roberts Rd. Suite 2A
Palos Hills , IL 60465