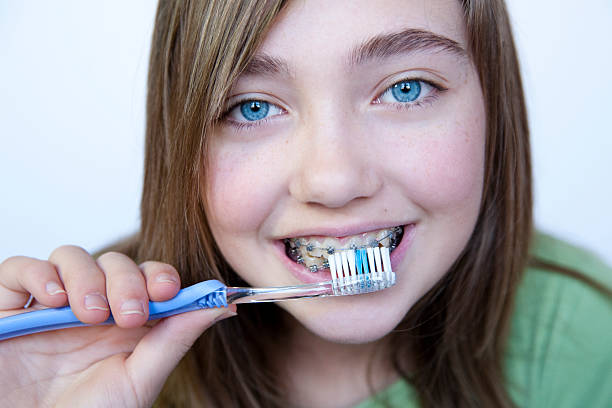 There are many different parts to your braces, all of which might interfere with your ability to brush your teeth thoroughly. After every meal, your wires, brackets, and bands can trap food particles, even if you feel like your mouth is completely clean. You can maintain excellent oral health throughout your orthodontic treatment and beyond by giving your mouth a quick rinse and brushing after meals.
How to brush effectively:
The braces themselves can become breeding grounds for bacteria if you are not diligent about keeping them clean. If you are brushing your teeth with braces, it is critical to make sure you get into all the nooks and crannies, as there are many of them. The best way to target the areas between brackets and bands is to brush your teeth from different angles. Taking your time is important; you should expect to brush for longer periods of time and more thoroughly with braces.
You should also rinse your mouth with water regularly to remove any debris that may have remained in your bands or brackets. This rinse could help remove stubborn food particles left in your braces after a meal. It also prevents plaque buildup or tooth decay if you do not have a toothbrush with you.
Brush, but don't overdo it.
When you have braces, should you brush more frequently? Yes, but do not overdo it. It is not necessary to brush your teeth more than ten times a day if you have braces. Additionally, it does not imply that you should brush aggressively.
Don't forget to floss.
A significant portion of your tooth enamel is covered by brackets when you have braces on your teeth. Additionally, you have wires and rubber bands. Combined, these factors create a multitude of small spaces in which food particles may be trapped. In the absence of braces, food particles can still get trapped, usually between the teeth, but this is far less likely than when braces are worn.
You should floss at least once a day and more frequently if necessary. It is difficult to floss with braces, but most drug stores and supermarkets sell tools that make it easier to thread floss around wires and brackets.
It is important to take care of your mouth. There should never be any discomfort or pain experienced while brushing. In order to maintain a healthy smile after your braces have been removed, you should rinse and brush your teeth thoroughly in the morning, at night, and after meals. For more information on optimal oral health or to schedule an appointment, please contact our office. Our team is available to assist you.
Paul DiFranco Orthodontics of Palos Hills
10059 S. Roberts Rd. Suite 2A